My review on Red Lion RL-SC50T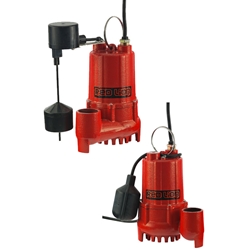 Heavy rainfall in springtime isn't something out of the ordinary in the area where my family and I live. After one of our neighbors had the unpleasant surprise of realizing that his basement was flooded one night, we came to the conclusion that we simply had to find a way of avoiding the costs linked to repairs and such. I went online to do some research. While I did find a myriad of useful pieces of information regarding how you can keep your basement dry, nothing seemed to me as efficient as installing a sump pump.
I wasn't ready to make a serious investment and spend five hundred dollars on a sump pump. I know some models are made with super-durable materials, but what I wanted was something basic that did the trick for when I was out of town and neither my family nor I were able to remove the water accumulated in the basement. After tossing and turning about getting a pedestal, submersible, or water-powered alternative, I discovered the Red Lion RL-SC50T. One of the first things I did was go online and check with the reviews gathered by the product. I was curious to find out what different homeowners had to say about the performance of the pump. Soon enough, I realized that this is one of those units that don't receive any hate on the part of users. Having been well-made, back when I did my homework, I found that it had gathered just 4 and 5-star reviews.
After months and months of research, I decided to order the sump pump. I had the assistance of an uncle when the pump was delivered, and we fortunately had no problem installing it by ourselves. What I like the most about this ½-HP 4,300-GPH pump is that it's made of cast iron, which means that I won't have to go through the trouble of buying a replacement anytime during the next five years or more. Besides, the motor engine is the very definition of efficiency, and the water capacity of the model makes it a winner, considering that it can discharge up to 4,300 gallons per hour at zero feet.
Another thing I like about the sump pump is that, although it's installed in a pit between a storage room and a basement bathroom, it virtually makes no noise at all. I can't hear it doing its job when I'm taking a shower. I can't even hear it when I'm watching a TV show in the living room above the basement where the sump pump is installed. Although our kids aren't too young anymore, I figured that this would be an important detail to write in here because families with small children tend to be bothered by the noise made by many sump pumps.
Finally, I'd like to add that this is an automatic model, meaning that it will turn itself on and off whenever the water reaches a certain level. This comes in handy when I'm at work or when the kids and my wife are visiting relatives out of town. All in all, the Red Lion RL-SC50T makes me feel reassured that nothing will go wrong in my cellar.